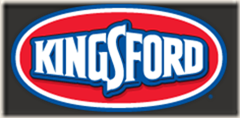 You may have seen those extreme couponing shows where people have huge stockpiles of food and toilet paper. They strategize and plan to amass their collections for hours on end but I'm not one of those people.
I do recognize deals when I see them and if you're planning on grilling this weekend or even for the rest of the year then I suggest you head out to your local Lowes or Home Depot and pick up some Kingsford charcoal.  Both are featuring a sale on charcoal.
| | | |
| --- | --- | --- |
| | | |
| Total Weight | 40 lbs. | 27.8 lbs. |
| Weight | 2-20 lb. bags | 2-13.9 lb. bags |
| Price | $9.99 | $6.88 |
| Price per lb. | $0.249 | $0.247 |
As you can see from the chart, you make out pretty much the same either way you go. It's just a matter of how much charcoal you will need. I tend to go for the larger bags and plenty of them.
The sale should last until Saturday but why wait, go get yours today because I know I will.