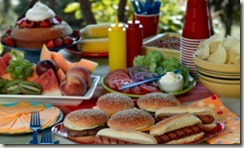 Where are my manners? I seem to have forgotten to give updates.
Week 3 – We took a closer look at burgers and hot dogs but more so burgers. What goes into making a good burger? The right meat/fat ratio for starters. Add to that you best seasonings or marinades prior to committing meat to heat. But it doesn't stop there! Once the cooking is over the right condiments, toppings choice of bun or cheese can dramatically affect flavor.
Ideally condiments should compliment not season your meal. Too much ketchup or a strong flavored pickle and ruin a mouth full of juicy burger.
Week 4 – Who doesn't like ribs? Even if pork isn't you thing beef or lamb pack the right amount on the same sized bone.
Preparation is one of the keys to great ribs. Never broil or boil prior to cooking. Doing so only removes flavor. If you are doing so to make cooking easier try cooking your ribs with indirect heat or a lower temperature. Ribs are best when cooked slowly and covered with the grill lid. The smoke generated is the best flavoring source you have. Wood chips in this case will be your best friends.
Your other best friend will be a good seasoning. Experiment to find the right dry seasoning to your liking. Season different sections of the ribs with different seasons and have your own tasting experience.
Week 5 – There's more to a BBQ than meat and there are more sides out there than potato salad! No meal is complete without the compliment of side dishes and BBQ is no exception.
Almost any vegetable can be grilled if it is large enough to not fall through the grates. For long vegetables, you would cut it on the bias as demonstrated in this video:
Other sides that are BBQ favorites include baked beans, Deviled Eggs, corn on the cobb, salads and casseroles. For any side that you may have out remember to keep cold foods cold and hot foods hot. If you are planning to be outside, keep an extra bag or cooler of ice on hand just for food purposes. Don't leave food sitting out in the sun or uncovered under a tree.