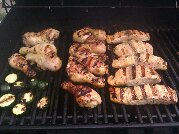 If you have friends then you've been on one side of this situation: You are tired of screwing something up yourself so you call someone that knows what they are doing to help you out. Like Stevie said, that's what friends are for.
When a friend told me that her and her husband were tired of burning their food on the grill I knew I'd be asked to step in and "put out the flames." The arrangement was simple; they would provide the food, drinks and grill I would show them the ropes.
First we talked about what the issue was. It was the most common request I hear; I want to stop burning food. Solving this is the simplest to explain and hardest to implement. Simply lowering the cooking temperature is the solution but what comes next is where the challenge comes in.
Learning how to tell when food is ready to be turned or taken off the grill where most people struggle. The cues can vary greatly depending on what is being cooked and what flavorings are being used such as dry seasonings or marinades.
The best way to learn is trial and error. Think of it as a scientific experiment and take multiple pieces of the same food prepared the same way. Turn each piece at different intervals and observe how the food reacts. Look at the coloring and constancy of both the top and bottom corners of the food as it cooks.
Simple rule of thumb is that if the food sticks then it is too soon and if it breaks apart then it is way too late. Unless you are cooking to a well-done temperature, food should still be moist to the touch. Expect food to be singed slightly but not charred of the surface more than 25% just like  lightly toasted bread.
Next comes what I like to call "lid control." Whether you leave the lid up or down depends on whether you are willing to watch over the food carefully and whether or not you are using direct or indirect heat to cook.
Using no lid at all means that you will want to use a low, direct heat. This is best for fruits, vegetables, boneless meats and fish. Lid down you will want to use indirect heat as much as possible. This is best for bone-in meats and adding smoked flavors.
With these tips in place the ground work is laid to head down the road of better cooking. Next time you grill see if following these steps equates to better food coming off the grill.