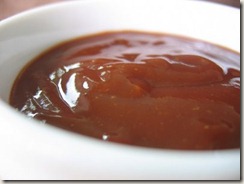 This week (actually last week by the time this is posted) we made homemade BBQ sauces. There were 4 recipes and 8 cooks (counting myself) so that we could contrast how sauces tastes with and without vinegar as an ingredient. The substitute ingredient was olive oil due to its lack of a dominate flavor and consistency.
Each of the 4 sauces that were made had a distinct flavoring to them. Our sauces covered the broad range of types from a honey barbecue to a Memphis style and even a Carolina mustard based sauce. A few even with a hint of rum or bourbon for an extra kick!
Sampling sauces with and without vinegar as an ingredient is pretty impossible in store bought sauces due to manufactures sticking to one recipe as to not to create a conflicting product within their own brands.
The exercise turned out pretty well in the class. There wasn't a clear winner, unless you count the over enthusiasm of one student for a particular sauce, due to everyone's unique taste preferences.