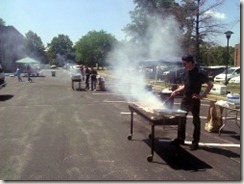 A friend and former co-worker of mine from my catering days started his own catering company and needed my help for a job.  Being that it's been over a year since I've been out cooking for a large group of people I graciously accepted.
The event was a simple corporate function for about 700 people. The menu was simple; burgers, hot dogs and a leaf salad. The staff was familiar, all former coworkers that I 've catered with before also.
Once the grills were lit it all came back to me like I never stopped. Suddenly there were sixteen burgers cooking on the grill at once and half of which needed cheese to melt and the other half needed to be flipped. Soon after I line of people formed and it was time to dole out the food.
Once you get going things become pretty easy and repetitive. Repetitive except for one thing; the interactions with the people. The people make it all worth while. I think I may have said this before but I've always believed that our style of cooking was the most rewarding type there is. We not only cook the food but we serve it also. You get to see first hand how something you produced affects someone. In my everyday job as a software programmer, I don't get to see how my work affects people at all.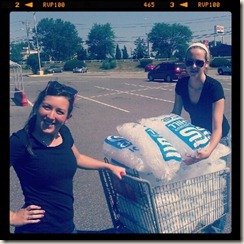 As I serve people, I try to make each encounter unique mostly because people are unique. The brief interaction is used to bring a smile to their faces as well as food to their plate. When it is my turn as a customer, to me there is nothing worse than the person serving me to be in a bad mood. It brings me down and ruins my meal. I never want to be that person to someone else.
I also try to spread that attitude to the people I'm working with. And with people like these two pictured, it becomes very easy.
Thanks to Derek, Kaitlin, Christie, Jaron, Trish, Abby, Scotty and Josh for making this long needed day a memorable one.