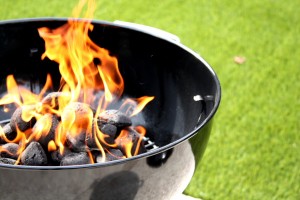 First flame has come and gone but I'm just getting around to writing about it. What is First Flame? It's the first outdoor BBQ of the year. For now, it's not a major event for me but I do celebrate it in my own way each year.
First, I deeply clean my grill.  I want it to last a long time and since I use it heavily it must get an annual proper cleaning.
Next comes a resupply of charcoal.  Kingsford is my brand of choice. I've used many different brands and types extensively and nothing compares to the consistent burn it gives throughout the life of the briquette.
While I'm at it I always grab a new light stick, grill brush and lighter fluid (also by Kingsford).
Once I'm fully stocked and cleaned comes the setup. Nothing elaborate about that.
The menu consists of a wide array of food. Ribs, chicken wings, veggies, fish, sausage and burgers.  Why so much? It's simple, First Flame is the way to start off the year by working out all the kinks and get the pallet ready for the flavors of the year.
Now that the sun is warming the air you should have your First Flame if you haven't already.